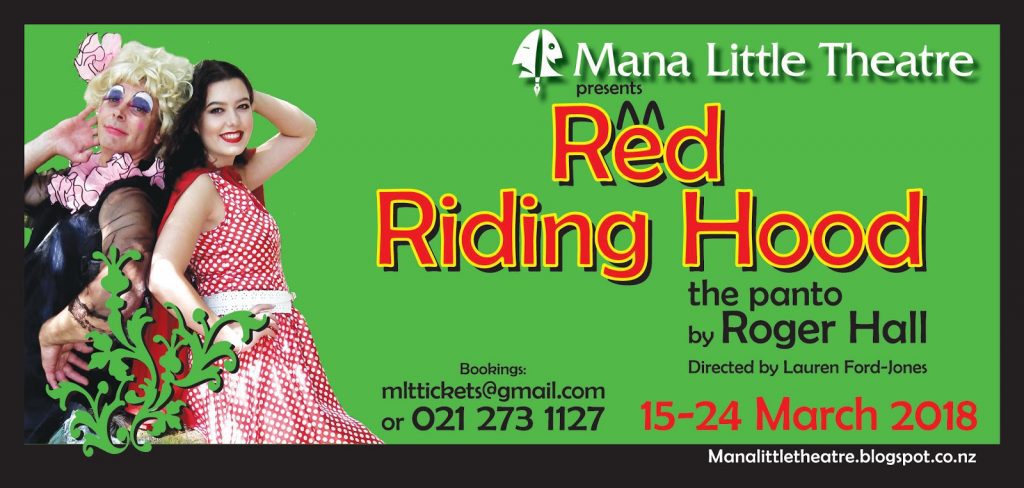 Dates: 15 – 24 March 2018
Playwright: Roger Hall
Director: Lauren Ford-Jones
Synopsis
A wolf has escaped from Wellington Zoo and is terrorising Porirua residents – thanks to the bungling efforts of a couple of failed List MPs on work experience. He's dangerous, and must be caught – and before the next full moon.
Red Riding Hood, still living with her mother in Whitby, and dear old Grandma in nearby Plimmerton are all looking for love.
Meanwhile, Sir Roger Bounder, the evil property developer, has his eyes set on Karehana Bay Reserve, and Grandma's small adjoining cottage.
---
Cast
| | |
| --- | --- |
| Actor | Character |
| Bruce Cannell | Grandma |
| Sue Mortimer | Mother |
| Teresa Sullivan | Morris |
| Natalie Plowman | Boris |
| Charli Gartrell | Red Riding Hood |
| Nick Edwards | Sir Roger Bounder |
| Ben Forrest | Wolf |
| Harlan Te Wiata | Lance |
| Ash Turner | Moon |
| Violet Edwards | Blackbird |
| Lailah Beckman | Morepork / Stoat |
---
Crew
| | |
| --- | --- |
| Director | Lauren Ford-Jones |
| Music | Clinton Zerf |
| Stage Manager | Fran Forrest |
| Stage Crew | Ben Ratchford, Kaitlyn Jacobs, Anne McMullin |
| Wardrobe | Kythie Morris, Sue Miller, Jack Mace |
| Set build | Colin Clemens, Warrick Smith, Sue Mortimer, Bill Robinson |
| Set design & paint | Sue Mortimer, Lauren Ford-Jones, Harlan Te Wiata, Bryony Ford-Jones |
| Lighting | Jacob Cannell, Alan De La Mare |
| Sound | Tommy Joass |
| Artwork | Stephanie Drew |
| Publicity | Sally Ratchford, Sue Mortimer, Lauren Ford-Jones, Sue Miller |
| Production Assistant | Bryony Ford-Jones |
| Photography | Ross Miller |
| Box Office | Sue Mortimer |
| Front of House | Bryony Ford-Jones & helpers |
---