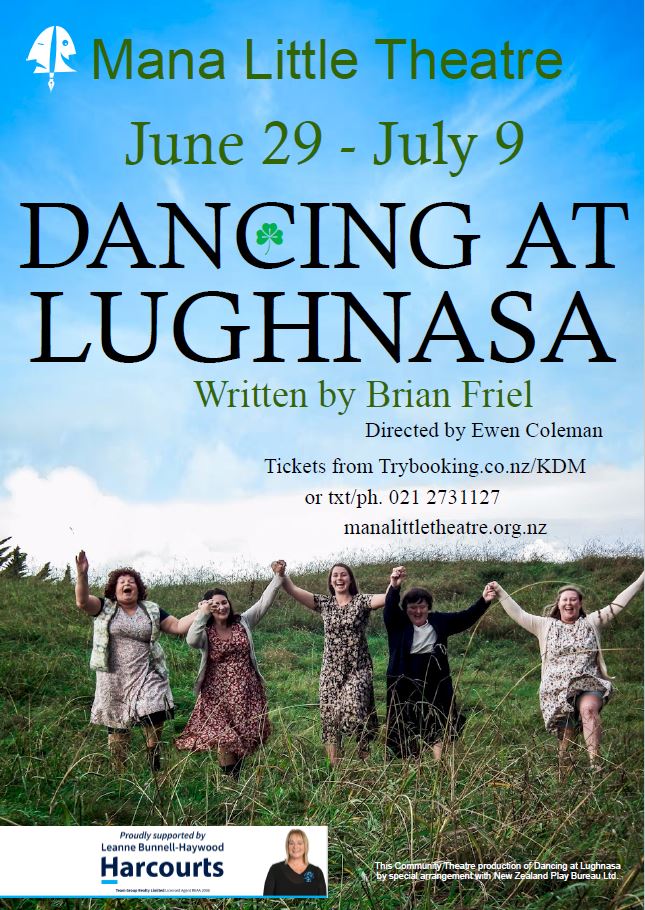 Dates: 6 – 16 July 2022
Playwright: Brian Friel
Director: Ewen Coleman
Synopsis
Set in the Irish village of Ballybeg in the county of Donegal, in the late summer of 1936, around the festival of Lughnasadh, a Celtic harvest festival, five unmarried sisters (Kate, Maggie, Agnes, Rose, and Chris) struggle to survive and make a living. They are also bringing up 7-year-old Michael, the fatherless child of the youngest sister Chris.
Then, into their lives comes their frail elder brother, Jack, from a life as a missionary in Africa, and Michael's father, Gerry Evans. Told through the memories of Michael, now a grown man, it portrays the family being faced with no meaningful work, no likelihood of husbands and only themselves to depend on yet they nevertheless still manage to find joy and humour in their lives.
However, as the summer ends, something happens that threatens to disrupt the dynamics of this closely knit family causing irreparable suffering and damage to their lives. A tender study of the women's lives the weaves a magical journey of memory, illusion and dancing.
---
Cast
| | |
| --- | --- |
| Actor | Character |
| Alister Williams | Father Jack |
| Sue Mortimer | Kate |
| Teresa Sullivan | Maggie |
| Sara Schroder | Agnes |
| Lisa Aaltonen | Rose |
| Loren Whithair | Chris |
| Blair McLean | Michael |
| James Boag | Gerry |
---
Crew
| | |
| --- | --- |
| Director | Ewen Coleman |
| Stage Manager | Sally Ratchford |
| Lighting | Ross Miller, Adam Harrison |
| Sound design | Tommy Joass |
| Sound | Bruce Cannell |
| Wardrobe | Sue Miller, Kythie Morris |
| Hair | Kythie Morris, Janet Meyler |
| Artwork | Tim Gruar |
| Props | Debbie Williams |
| Prompt | Debbie Williams |
| Front of House | Victoria Wilks, Natalie Plowman |
| Set design | Ewen Coleman |
| Set build | Ross Miller, Bill Robinson |
| Set paint | Sue Mortimer |
| Photography | Ross Miller |
| Bookings | Colin Clemens |
---
Photos